Listing of Past Events
Conferences & Symposia
September 18, 2017 - Conference on Teaching the Environmental Humanities
June 7, 2017 - "Farmers and Agriculture across Borders"
A one-day graduate student workshop held  in Grand Rapids, MI. The workshop ran in advance of the AHS Annual Meeting, also in Grand Rapids. 
April 22, 2017- "New Perspectives in Environmental History"
A Northeast Regional Conference
This one-day conference showcased current doctoral student research in environmental history and to encourage dialogue among graduate students and faculty. The conference included three moderated panel sessions featuring presentations by graduate students from ten different universities. *Paper Abstract Submission Details*
We are grateful to our co-sponsors: Department of History, Yale University, MacMillan Center at Yale, Program in the History of Science and Medicine, Yale University
---
The Agrarian Studies Program is pleased to partner with Yale Environmental History to host a joint social for all affiliated and interested faculty and students. The event will take place September 28, 2016 at 5:30pm in the second floor common room of Luce Hall. Hope to see you there!  Link to event poster. 
---
The Fourth Annual Yale Food Systems Symposium will take place on September 30, 2016. For registration and more information: Link to website.
---
Yale will host an international history conference on the role of expertise during the Cold War in Latin America. The conference, "Traveling Technocrats: Experts and Expertise during Latin America's Long Cold War," will convene on October 14 and 15, 2016 in the Luce Hall Auditorium. Papers include topics such as rural development, agricultural economics, forestry, national parks, field stations, cattle and veterinarian science, and many others of interest to the Agrarian Studies community. Link to more details. 
---
The International Labour Organization, with Agrarian Studies Affiliate alum Rishabh Dhir, has prepared a video in honor of the International Day for the World's Indigenous People. Link to YouTube Videos or Link to Facebook. 
---
Spring Series Colloquia 2017
Thursday, April 21
Keri Lambert - Ph.D Candidate, History
Tapping Ghanaians: Kwame Nkrumah's Rubber Scheme, 1957-66
Faizah Zakaria - Ph.D Candidate, History
Landscapes and Conversions during the Padri Wars in Sumatra, 1803-1840 
---
Thursday, May 5
5 to 7 pm, 230 Prospect Street
Elliot Prasse-Freeman - Ph.D Candidate, Anthropology
Sedentarized in Motion: Socio-Political Consequences of Dispossession, Displacement, Deterritorialization and Devalorization of Peasants and Poor People in Contemporary Myanmar
Daniel Tubb - Visiting Post-Doctoral Fellow, Anthropology
Shift Work: Small-scale Gold Mining in Chocó, Colombia
---
Friday, May 6
12 to 2 pm at 230, Prospect Street
Kjell Ericson - Visiting Postdoctoral Fellow, History
The Cage and The Chain: Materializing a Boom in Postwar Japan's Pearl Country
Mark Baker - PhD Candidate, History
Spaces of Starvation: State and the City in the Henan Famine, 1942-43
---
Fall 2015 Colloquium Series
"Hinterlands, Frontiers, Cities, and States: Transactions and Identities"
The core of the Agrarian Studies Program's activities is a weekly colloquium organized around an annual theme. Invited specialists send papers in advance that are the focus of an organized discussion by the faculty and graduate students associated with the colloquium. Link to papers. Link to Fall 2015 Schedule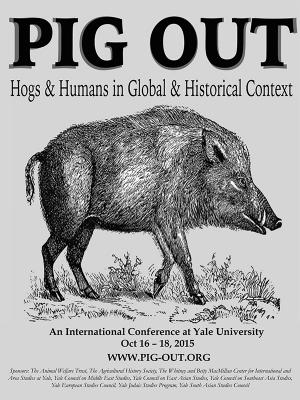 October 16-18, 2015 - 
Pig Out: Hogs and Humans in Global and Historical Context
An International Conference at Yale UniversityThe Yale Program in Agrarian Studies is thrilled to announce an international conference, scheduled for October, 2015, which will will examine the role of pigs in human society in comparative cultural and historical perspective. Presenters will be drawn from around the world and across academic disciplines, including the natural, agricultural, and environmental sciences; the humanities; and journalists, activists, and public intellectuals.
---
Spring Series Colloquia, April 29 and May 7, 2015
Agrarian Studies is delighted to announce the lineup for our annual "Spring Series" colloquia. This is an opportunity for advanced Ph.D. students and postdocs to share their work with the Agrarian Studies community in a relaxed format similar to our Friday meetings. We will provide pizza and beverages for two gatherings:
Wednesday, April 29, 5:00-8:30 (230 Prospect, Seminar Room)
Aniket Aga (Ph.D. Candidate, Anthropology),Merchants of Knowledge: Retailers, Private Sector Extension Agents, and Vegetable Cultivation in Western India • Alba Diaz (Visiting Postdoctoral Fellow, Contemporary History), "When milk began to be worth": Economic, Social and Cultural Changes in Rural Galiza, 1959-1986 • Alder Keleman (Ph.D. Candidate, Forestry and Environmental Studies), The Bitter Taste of the Anthropocene: Cooking Native and Traditional Crops in the Bolivian Andes
Thursday, May 7, 5:00-8:30 (Luce Hall, Room 203)
Ariel Ron (Postdoctoral Fellow, American History), The 'Home Market': Structural Change and Developmental Ideology in the Rural Northeast, 1815-1860 • Yu Luo (Ph.D. Candidate, Anthropology), Drifting with the Current?: An In-Between Ethnicity at China's Southwestern Borderland • Amy Zhang (Ph.D. Candidate, Anthropology), Spectacular Technology, Invisible Harms: Touring Guangzhou's Waste Facilities
---
Lewistown men share their agrarian expertise at a Yale University colloquium
PEORIA — An academic colloquium at Yale University is not someplace where farmers tend to hang out. Typically, a colloquium is a place where graduate students and professors attend presentations by visiting professors to discuss ongoing studies and theories.
However, in mid-September, two Lewistown farmers found themselves speaking in front of a crowd of East Coast intellectuals in New Haven, Conn.
Read more in the in the Peoria Journal Star.
---
To celebrate its 40th anniversary, The Journal of Peasant Studies will be publishing two special issues on "Global Agrarian Transformations." For free access to the first volume of this collection, click here.
---
Conference on Food Sovereignty held at Yale in September 2013
The Program in Agrarian Studies and the Journal of Peasant Studies are sponsored a conference titled "Food Sovereignty: A Critical Dialogue" at Yale on September 14–15, 2013. The conference brought together leading scholars and political activists who are advocates of and sympathetic to the idea of food sovereignty, as well as those who are skeptical of the concept, to foster a critical and productive dialogue on the issue. The purpose of the meeting was to examine what food sovereignty might mean, how it might be variously construed, and what policies (e.g. of land use, commodity policy, and food subsidies) it implies.
---
Visitors can always find schedules and other information about Agrarian Studies programs and events from past years in the Archives. Included are Colloquium schedules, short biographies of program fellows, course syllabi, and special events.